Welcome to St. James!


Whether you have been exploring your faith for a lifetime or are just beginning to search, you are welcome here. Bring your hopes and fears, worries and joys, talents and shortcomings. We welcome all of it! Your perspective and your questions are unique. Together we will deepen our ties to God and one another.

At our core, we believe that serving courageously and living faithfully go hand in hand. Every day we step out of our comfort zone and step up to participate in God's work in the world. On Sundays, we gather not only to hear God's word broken open for today's time but also to feast on the sacrament that empowers our lives.

We invite you see first hand what all of this means and how you might get connected!


Sunday Services at 10:30 a.m.
On Receiving Communion: We invite all who seek to walk in faith to join us at the Altar, sharing in Christ's sustaining life. You may stand or kneel at the Altar Rail. Those who have been baptized may receive the Holy Communion with or without the wine and those who have not yet been baptized, may receive, with your arms crossed, a blessing.
---
St. James Building Project Update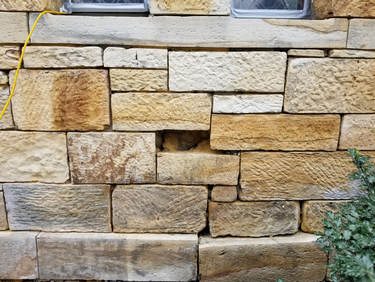 A comprehensive building restoration and improvement plan has been discussed and developed by the Bishop's Committee over the past several months. This plan consists of several projects that will address structural wear and tear on the church exterior that has occurred over many, many years, improve access to our church facilities, address identified repairs of the church organ and address energy efficiency needs in the parish hall.

Church leaders recognized early on that much needed repairs to the structural integrity of the church including the slate roof, exterior stonework and the beautiful stained glass windows were priority projects that could not be delayed. Those projects have been contracted and have been completed or in the process of being completed this summer.

The scope of work that will ultimately be completed will of course be based upon philosophical and the level of financial support from our parishioners. A survey was created and distributed to our congregation to determine the feasibility of the several projects that have been discussed.

The Bishop's Committee will be reviewing the results of this survey at its next meeting in September. Shortly thereafter, a meeting will be scheduled to share with parishioners the survey results and the final scope of work of the comprehensive building restoration and improvement plan.

Preliminary results indicate that there is solid support for many of the projects listed in the plan from those who submitted a survey. There is also significant support (93%) for the development of a capital campaign to help support the projects financially so that use of endowment funds can be minimized as much as possible. 92% supported the repair of the slate roof, 89% support the stained glass window repair, 87% support the repair and restoration of the stonework and 62% are in favor of having the church organ pipes cleaned and new leathers installed.

Other projects that drew significant support included a new driveway to provide improved handicapped access (65%) and replacing the parish hall windows (85%). Survey results indicate that an off-street parking lot is not a priority with only 27% supporting the project. Other projects received support dependent upon funds that are available.

Complete restoration of the church organ received mixed support mainly due to the lack of information. The Bishop's Committee will gather additional information from Austin Organ Company, who built and installed the organ and the vendor who is contracted to maintain the organ. It seems to be a complicated project and concerns that any work to be done will not be long term. This information will be shared at the meeting in September and recommendation will be announced.

This comprehensive building restoration and improvement plan is ambitious and far from finalized. An overwhelming majority (84%) of those surveyed felt that the final plan should be scaled back based upon survey results and funds raised. The development of a successful capital campaign is integral in determining the outcome of the proposed projects. The development of a capital campaign will require a wider group of people to be involved.

Please feel free to contact church leadership if you have questions and/or further input.


---
Church News

---
---

Interview with Luke Ruot on the Stream


---

Important Episcopal Links

---

---

---

---
---